**This only applies if your SIM card number begins with 89011**
Double check your connection
Charge your hotspot's battery
Check your account status
What type of SIM card are you using?
Configure APN network settings

Netgear Unite hotspot device
MiFi 2 hotspot device
Other types of hotspots
Are you having trouble connecting to the internet with your hotspot device? Follow the instructions in this article.
Are you properly connected?
Make sure you are taking the correct steps to connect your laptop, desktop, smartphone or tablet to your hotspot device. Click here for instructions on connecting your laptop computer, desktop computer, tablet, or smartphone to your hotspot's WiFi network.
Is your hotspot low in battery power?
Unfortunately, your hotspot will not work properly if it is not charged. If your device says "Low Power", charge it for at least 20 minutes and then try your connection again. If you see an "Invalid SIM" error, try to remove the hotspot's battery and then reinsert it. Turn the hotspot back on and then try your connection again.
Is the Account Suspended?
Log in at my.freedompop.com and take a look at the Overview page. If you have just 100MBs of data or less left in your account, your service may be suspended.
If you disable the Automatic Top-Up feature, your service will be suspended when you get close to your data plan limit. If this happens to you, you can remedy this by adding credit to your account, or upgrading your plan to one with a bigger data allotment.
To add credit, visit your credit balance settings. From there, you can add $10 or $20 dollars in credit to your account. To upgrade your plan, visit my.freedompop.com/plan.
If your account is not suspended, please keep reading.
Reset the hotspot
Turn your hotspot device off, wait 10 seconds, and then turn it back on again. Try to connect to it again after resetting the device.
Did you buy a data-only SIM card?
If you purchased a SIM, please makes sure the hotspot you are using it with, is a GSM unlocked hotspot. For an example of a GSM unlocked hotspot device, take a look at these eBay search results.
If you instead bought a CDMA or Sprint hotspot device or a device that is locked to one carrier, your SIM card will not work. Still not sure if your hotspot is compatible? You'll have to contact the retailer you purchased your product from.
Configure your hotspot APN settings
APN stands for Access Point Name. It is the connection between your service provider (FreedomPop) and your SIM card. Configuring APN settings on your hotspot device, allows data services to work.
Steps vary depending on your device. Do you have the Netgear Unite, the MiFi 2, or another type of hotspot?
Netgear Unite
Step 1: Connect your hotspot to your computer via WiFi. Not sure how? Click here.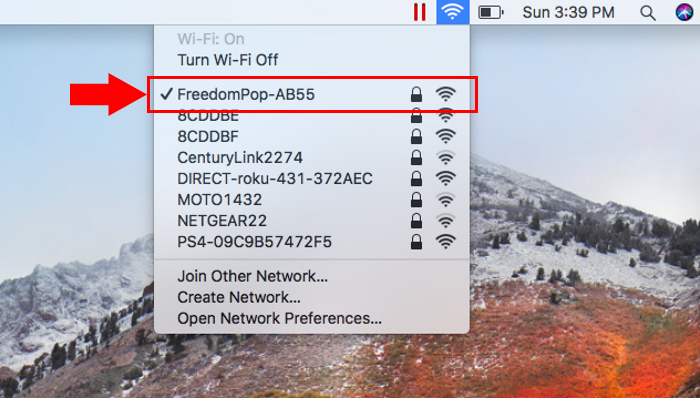 Step 2: Open a web browser. Anyone will work; Internet Explorer, Google Chrome, FireFox, Safari, etc.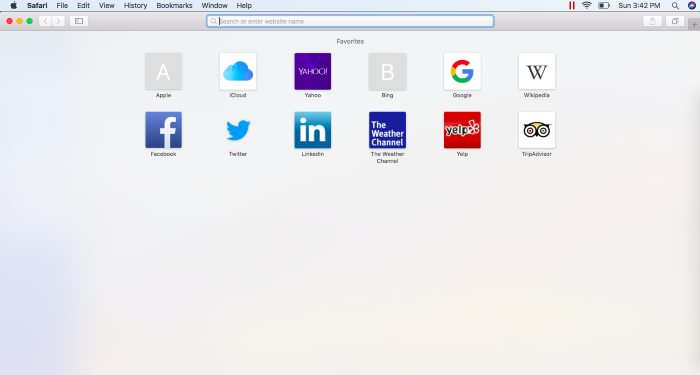 Step 3: In the website bar type in http://attunite . Do not add "www." At the beginning or ".com" at the end.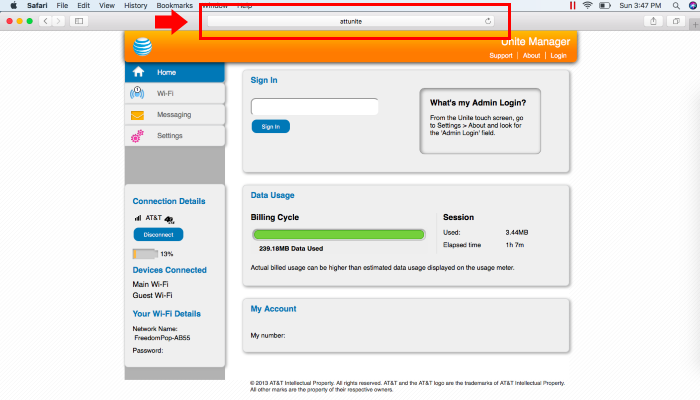 Step 4: Sign in using the password attadmin .

Step 5: From the option on the left, click Settings.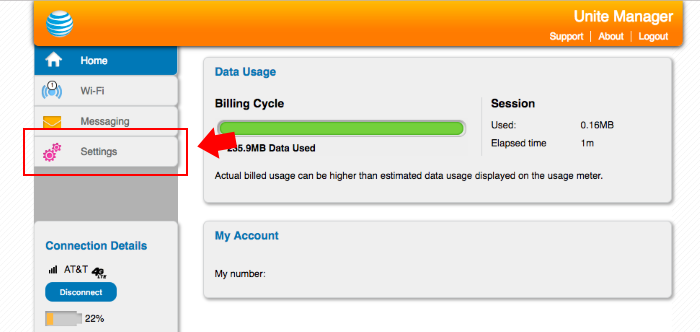 Step 6: Click on Network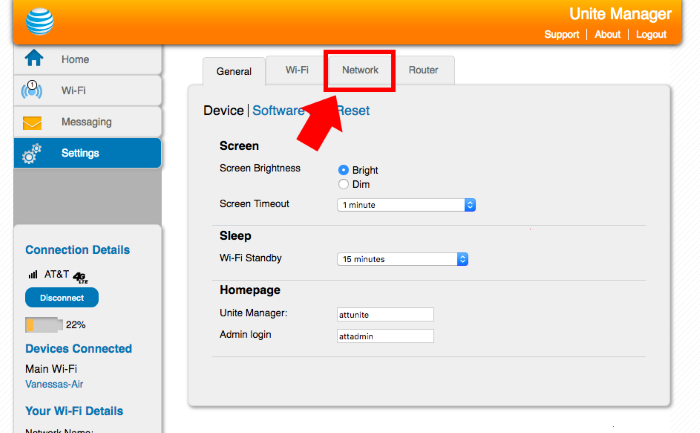 Step 7: Click on APN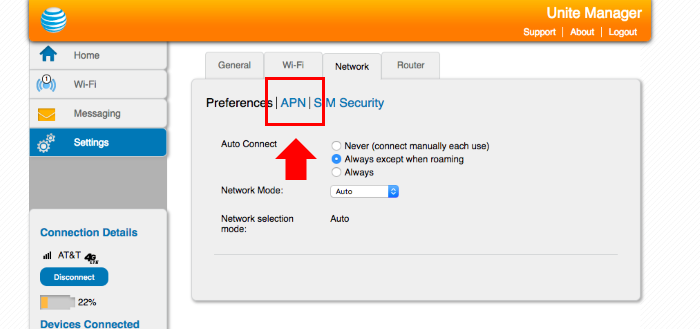 Step 8: You will see three empty boxes. Enter FreedomPop in the first box, and enter fp.com.attz in the second box. Leave the rest blank and click the plus sign to submit the new APN.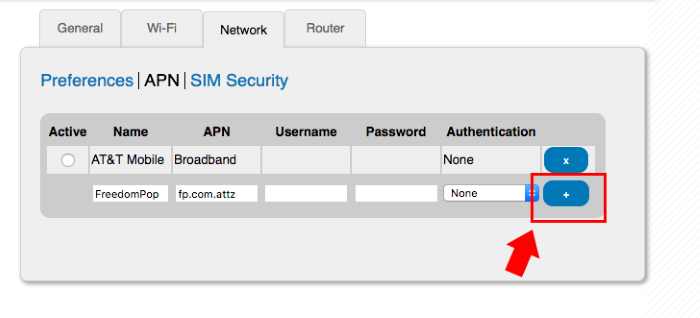 Finished: You have now successfully added the new APN settings for your hotspot.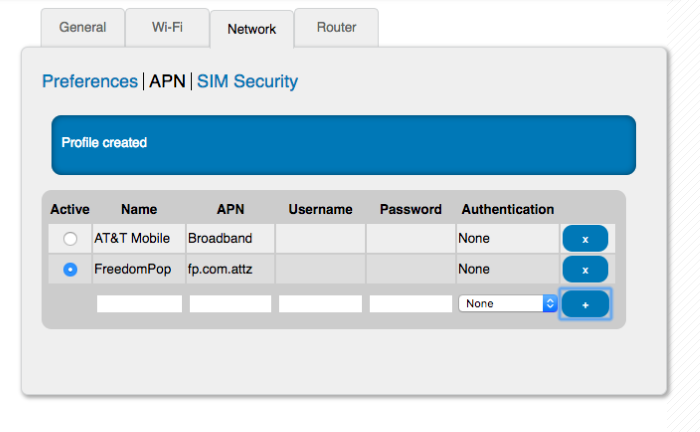 MiFi 2
Step 1: Using the on-screen buttons, change the Network Technology to 4G, 3G, 2G under "Settings".
Step 2: To change the APN settings you will have to go to http://192.168.1.1 on your computer or smartphone, while that computer or smartphone is connected to your Hotspot. Click here to learn how to connect your computer to your hotspot's network.
Step 3: After you go to http://192.168.1.1 you will be asked to log in. By default the password is admin. You can see this information on the screen of your hotspot, by going back to Settings and scrolling down to the bottom of the list.
Step 4: Please enter your password on this page.
Step 5: After logging in, under the "Settings" tab on the right, go to "Mobile Settings" and then click on the "APN" tab. Replace the APN with fp.com.attz and save the changes.
Another hotspot
You will have to check the user manual for instructions. If there was no user manual included when you ordered your hotspot device, you can usually find the user manual online.
Just do a Google search for your hotspot model and the word "pdf user guide". For example, if you are using the Alcatel LTE Linkzone hotspot, you can search for the phrase: "Alcatel Linkzone PDF user guide".
Still having problems?
Contact FreedomPop customer service if you are still unable to use your device.