This information applies to Premium SIM cards & eSIMs
How do Automatic Top Ups work?
When using the FreedomPop free plan, you'll receive a balance of minutes, text messages, and data every month.
If at any time, you exceed your minutes or text message limit, FreedomPop engages the automatic top up feature to keep you connected. You'll incur a charge to receive additional minutes or text messages to your line.
If at any time you exceed your data limit, FreedomPop switches you over to an upgraded, paid plan with a higher monthly data balance.
How to prevent the Top Ups
To prevent automatic top ups for low minutes and text messages, and to prevent the plan upgrade for a low data balance, you can enroll in the Safety Mode plan. The Safety Mode plan provides the same minutes, text messages, and data balances as the free plan, but this plan disables all automatic top ups.
The Safety Mode plan is a paid plan.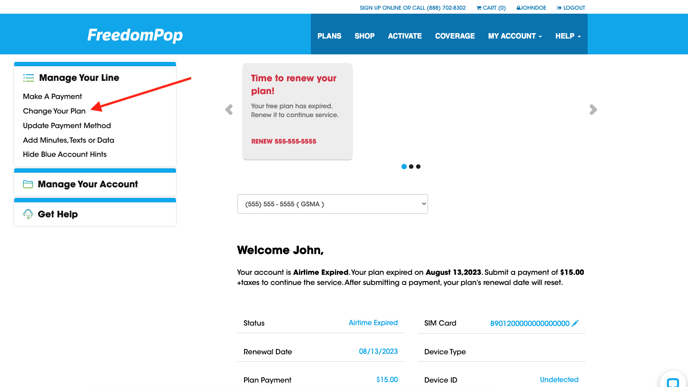 Login at freedompop.com/my-lines, and in the Manage Your Line menu, select "Change Your Plan".
From the list of available plans, locate the Safety Mode plan.
Click Change Plan to switch.
---
This information applies to Legacy, VoIP SIM Cards
What are Automatic Top-Ups?
The Automatic Top-Up feature, allows you to continue using your device, even when you have run out of data from your plan. You will incur a Top-Up charge of $20.00 when you have used all of the data included in your data plan. This puts $20 in credit on your account, to be used towards data that exceeds your limit.
Credit can be used to cover data usage that goes beyond your data plan limit, but it cannot be used towards your monthly plan charge or any service charges. Click here to learn more about Account Credit.
Turning Top Ups off
You must have the FreedomPop Safety Mode service to disable Top Ups. With this service, you will get a one-time addition of 500MBs of data -- added immediately to your account -- plus an additional 10% of data each month. You can also enable or disable Top Ups at any time. Click here to learn more about the Safety Mode service.
If you do not want to sign up for the FreedomPop Safety service, the Top Up feature will remain active. We recommend downloading the MyFreedomPop application to keep a close eye on your data usage, in order to avoid charges.
By disabling this feature, you will experience an interruption in service should you approach your data capacity. To avoid recurring charges on your account, you also need to downgrade your current plan or services. Click here to learn how.
If your service is interrupted, you will not be able to connect to data, nor make calls or texts. We highly recommend keeping this feature enabled if you do not wish for your service to be interrupted.
To disable this feature:
Step 1: Log into your account at my.freedompop.com and click on Manage Settings.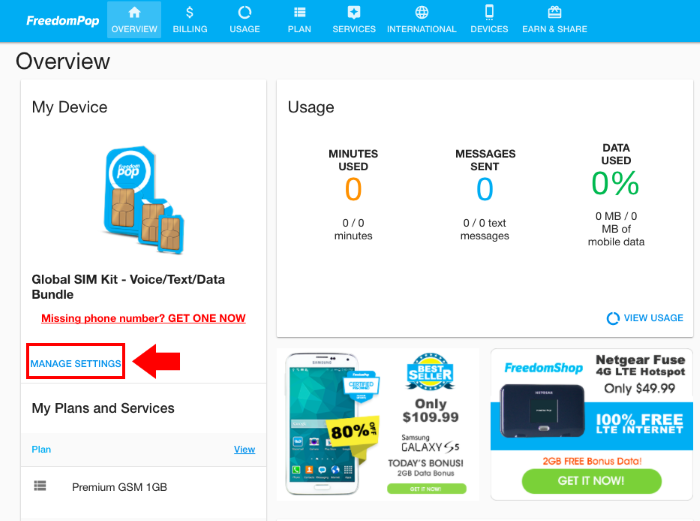 Step 3: From here, click on the Credit Balance section.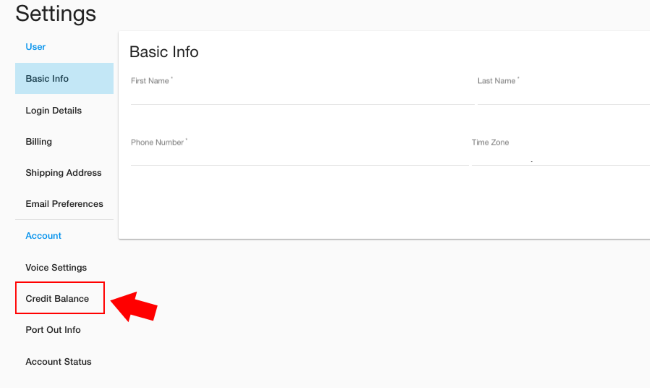 Step 4: Use the toggle to disable the Top Up feature.

Step 5: You will encounter a pop up for the Safety Mode service, if it is not already added to your account.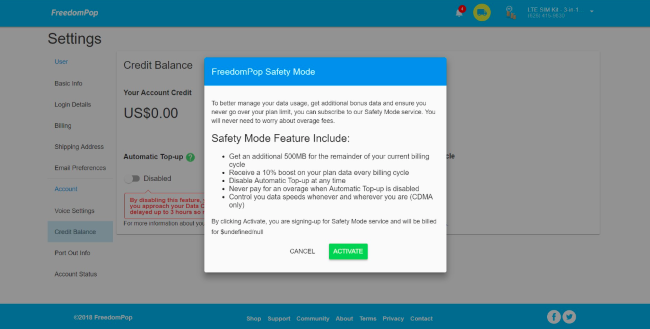 Click Activate to enroll in the Safety Mode service. You will incur the $6.99 charge for this service, at this time.