Thank you for becoming a FreedomPop customer! Complete the following steps to setup and use your new FreedomPop SIM card.
Step One: Do you need to activate the SIM card?
If you did not purchase your FreedomPop SIM card directly from FreedomPop (for example: if you purchased it through a Groupon deal, from Target, Best Buy, eBay or some other third party company) please visit freedompop.com/activate and activate the SIM.
You will need to enter the SIM Card's ICCID number, select a plan and then add a debit card, a credit card, or PayPal account information.
Even if you plan on signing up for the free plan, you must have valid payment information on file. This will make sure you do not experience service interruption if you ever exceed your data limit, or need to upgrade!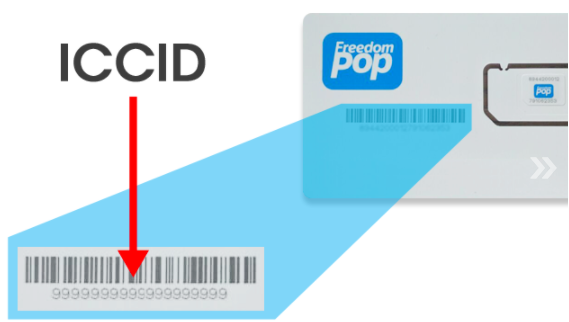 Need help finding your ICCID number? Check the packaging your SIM card came in. The SIM card's ICCID number is printed on the back. You can also look right on the back of the SIM card to find your ICCID. Click here for an example.
If you have purchased your SIM card directly from FreedomPop, your SIM is already activated and you already have an account.
Log in at my.freedompop.com to review your account details, and skip ahead to step two.
Step Two: Make sure your phone is compatible
Your device must be GSM carrier unlocked. This means if you got your phone from T-Mobile or some other carrier, you need to contact the carrier to have them officially unlock your device.
If you bought the phone from a manufacturer instead of a carrier, (for example, buying an iPhone directly from the Apple store), then your device may already be unlocked.
If your device is locked to a carrier (meaning it can only be used with T- Mobile or it can only be used with AT&T) then you cannot use the FreedomPop SIM card. Please unlock your phone first.
Put the FreedomPop SIM card into your phone. Error messages, like "Invalid SIM" or a popup box that asks for your "Unlock Code" lets you know that your phone is not compatible.
On Android phones, if you try to configure APN settings but you do not see the option to enter a new APN (or the option is grey and you cannot tap on it) this also means your device is locked.
Tap Settings, then Mobile Networks, then APN to check.
Step Three: Complete APN configuration
This step will allow your phone to receive a network connection. If you're using a compatible phone and your SIM card has been successfully activated, click here to configure APN settings.
Step Four: Download the FreedomPop application
After completing APN configuration, you must download the FreedomPop Messaging application.
Steps for Android phones
On Android, visit the Play Store and search for "FreedomPop" to download the application.
Then Install it (or you can click this link while on your phone, and it will take you right to the FreedomPop application).
This app is free to download! If you are asked to enter payment details, scroll down and tap on Skip.
Steps for iPhones
On iOS, visit the App Store and search for "FreedomPop".
Locate the application and then tap on GET (or you can click this link while on your phone, and it will take you right to the FreedomPop application).
Please note, if you see UPDATE, INSTAL or an icon that looks like a cloud, tap on either one of them to download the FreedomPop application.