This information applies to Premium SIM cards.
Unfortunately, we do not offer a "Freedom Friends" or referral program at this time.
This information applies to older, Standard SIM cards
What are Freedom Friends?
You can earn free data each month by connecting with friends. You'll earn 5 MB of additional data per month, for every friend that signs up for FreedomPop service -- up to a maximum of 50 MBs per month. Both your account and your friend's account must be active. If either account is dormant, or canceled, neither account will earn 5 MBs of data.
You can also share data with your friends (a maximum of 50 MBs per month) upon request. The account sharing data must be an active one. If an account is inactive, it cannot share data with any friends and data cannot be requested of that account.
Please Note: If you have already received 50 MBs of data in a single billing cycle -- either from the automatic Freedom Friends function that gives you 5 MBs per friend or from data that has been shared with you -- you will not be able to get more data from friends.
How to sign up for Freedom Friends
Step 1: To get started, log into your account at my.freedompop.com.
Step 2: Click on "Earn & Share" from the blue navigation buttons at the top of the page.
Step 3: You can log into your Google account from the Freedom Friends tab on our website, using the Invite Friends feature. Once you do this, the Friend Finder feature will scan the email addresses in your Contact list and send out invitations to your friends and family.
If you do not want a Friend Request sent out to all of your contacts use one of the other invite options instead; use the per email or via social media option.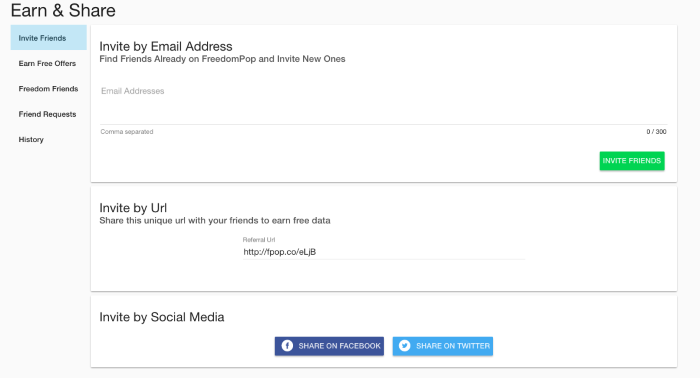 Friends and family who do not already have a FreedomPop account will receive a referral message, and after they sign up, they will need to accept your Friends Request.
The recipient of your request must log in at my.freedompop.com, and go to the Earn & Share tab. From there, they can click on Friend Request, to see the pending invite from you.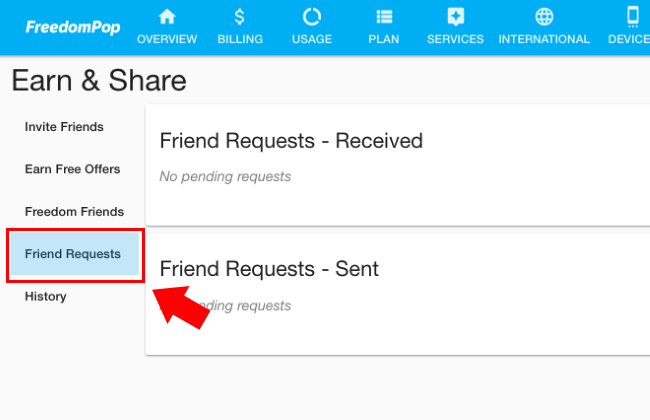 You each will receive 5mb/month as long as your friends remain FreedomPop members. The larger your network, the more free data you have the potential to receive!
Please note: The maximum amount of data that can be earned from Freedom Friends is 50mb per month (5mb per friend).