This information applies to the Premium SIM card
The serial number on your SIM card (called the ICCID number) begins with 89014
---
When you downgrade to the FreedomPop Freemium plan, you'll forfeit your remaining minutes, text messages, and high-speed data balances. Please downgrade towards the end of your billing cycle.
Step 1: Log in at freedompop.com/my-lines.
Step 2: Select your phone line.
Step 3: Click on Change Plan from the menu on the left-hand side of the page.
Step 4: Click on See Details next to your currently active plan.
Step 5: Click on the "I would like to downgrade to the free plan" button.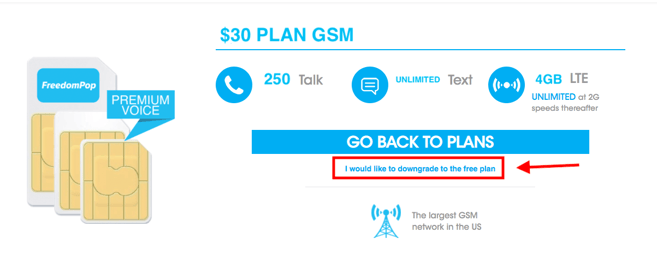 Go through the popups that appear to complete the downgrade process.
You'll need to renew your free plan each month to avoid service interruption. Learn more about renewing the free plan.
This information applies to the Legacy SIM card
The serial number on your SIM card (called the ICCID number) begins with 89011
---
FreedomPop offers a free tier plan. However, recent rate changes on our data network provider, together with our superior buying power on our largest underlying carrier, make a free offering only viable on our Premium network going forward.
For those who wish to continue receiving 100% free talk, text, and data, please switch over to our Premium SIM card service. FreedomPop Premium includes true cellular voice, text, and data - and no mobile application is required for calling and texting.
Visit freedompop.com/plans to switch over.
Do you have any added services?
If you are attempting to downgrade your account to the free plan, you may also want to downgrade or deactivate added services, like Data Roll Over, VIP, or Private Internet. Learn how to add or remove services.